Anytime, anywhere!
Marine Technics is a company specialized in diesel engine repairs, maintenance and service for the maritime industry.
Our Services
Workshop
Our workshop is convenient located in Oudewater, a small city in the Netherlands, famous in the past for the ropes used for the VOC ships.

In our workshop we are able to service the complete scope of works of all common 4-stroke diesel engine makes.
With 2 overhead cranes we have sufficient lifting ability in order to handle safely most engine parts.
After receipt in our workshop, parts are meticulous inspected and checked before repair works are executed.

Following works are frequently executed by our skilled engineers in our workshop :

• Hydrostatic pressure testing
• Machining of valves ( Maximum stem diameter 28,5mm)
• Machining of valve seats ( Maximum diameter 140 mm)
• Grinding of sealing surfaces for liners, cylinderheads and cylinder blocks ( Max diameter 650mm)
• Honing of Liners
• NDT/MPI – Crack testing
• Ultrasonic cleaning of injectors and fuel pump barrel / housing
• Fuel Injector pressure test rig
• Pearl blasting cabinet
• Conventional Lath
• Colum drill
• Hydraulic workshop press ( up to 50 tonnes)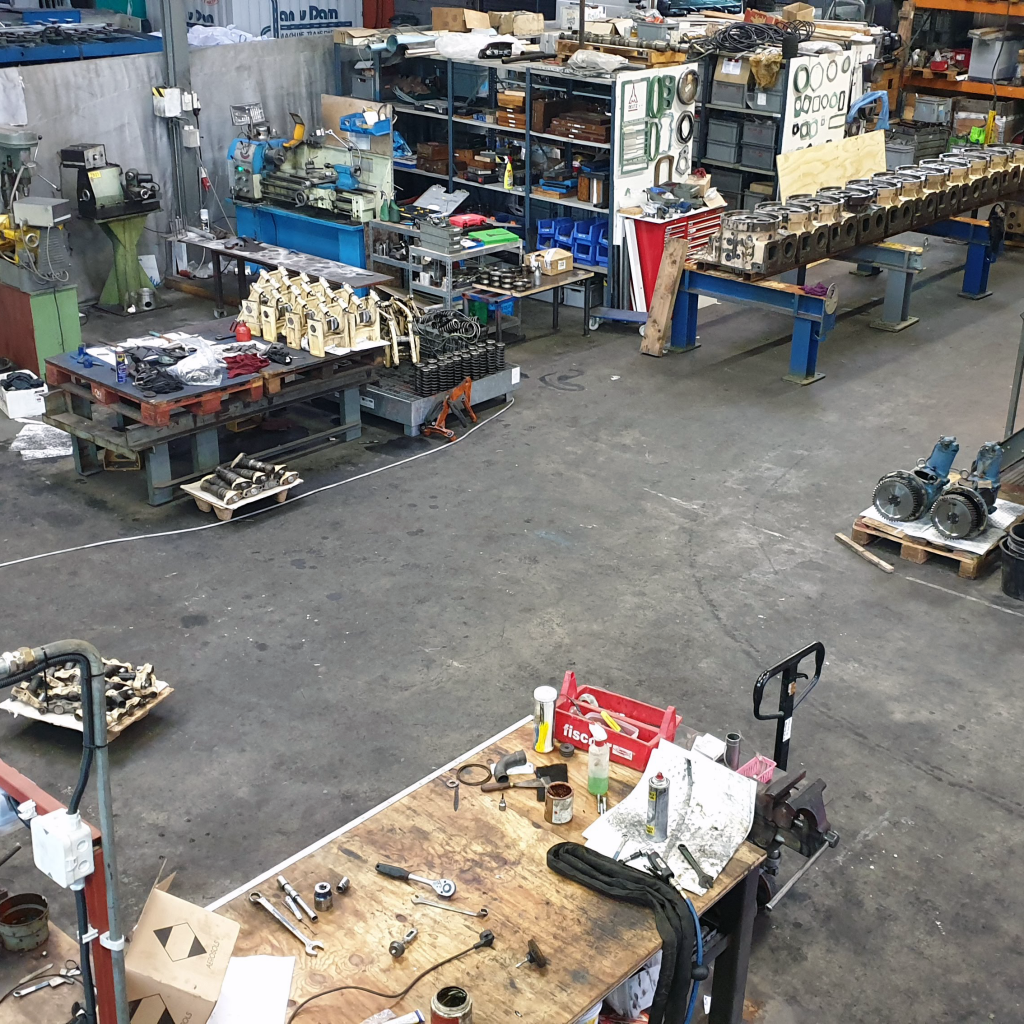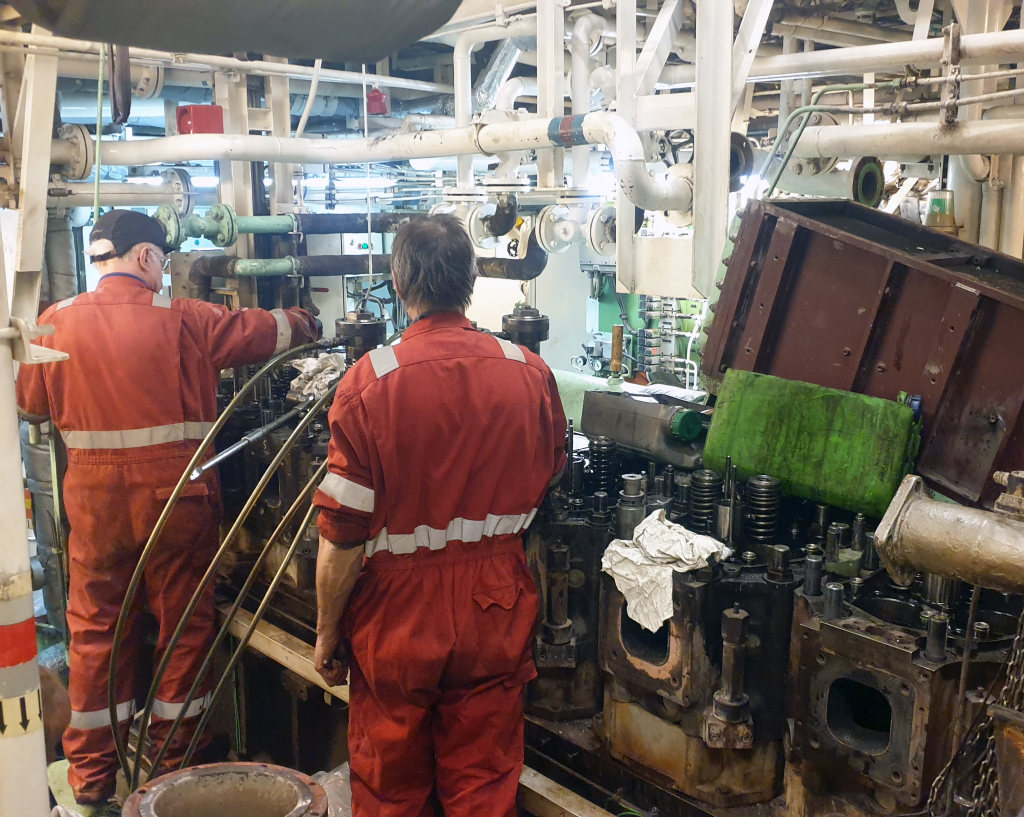 On-site
Proper maintenance is essential for reliability and durability of any engine installation.
Since the start of our company we have rendered maintenance all around the globe on various vessels for cargo, offshore, fishery, inland/river ships and shore based power plants / combined heat-power systems.

Depending on the works to be executed, we have a team to our disposal of highly skilled engineer('s) deployable mostly within 24hr worldwide, after a call is received.

Our works on-site can comprises amongst others from preventive / scheduled maintenance to major repair works.
Top end / full overhaul of (4-stroke) diesel and gas engines
Replacement of crankshaft and/or re-motorization
Alignment check / crankshaft deflection
Maintenance of fuel equipment
Calibrating of engine controls, monitoring equipment and alarms ( Pneumatic and electrical)
Engine load / output verification
Turbo charger overhaul
Parts & Inventory
For our customers we can offer a wide variety of spare parts, consumables and even complete installations.
In case that new parts cannot be delivered, we look for the best alternative, used and reconditioned parts, or if possible we remake the part ourselves. All of course with the high standard we always offer and with any class of your desire.
The reconditioning of the parts or engines, we can do in our own workshop, which is equipped for most common works on 4-stroke engines.
Here you can find a selection of our inventory in a downloadable PDF-Format. Please keep in mind that we have more on stock as displayed here. If you have any requirements, please contact us.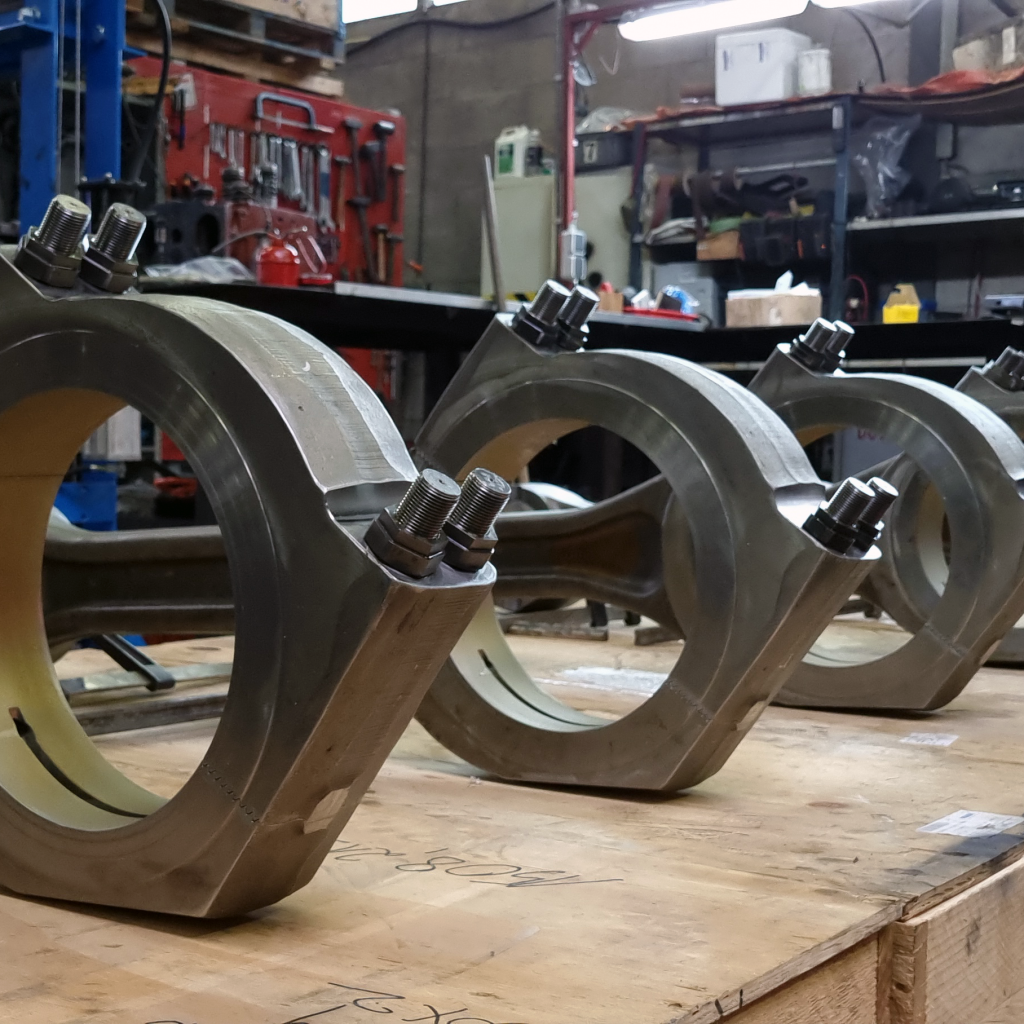 Questions or can we help you with something?
About our company

Marine Technics was founded in 1999 by former employees from Deutz Rotterdam.
Now 23 years later, Marine Technics render service to well-known engine makes such as Deutz, MaK, Wärtsilä, ABC, Bergen Engines and is an well-established repair company with satisfied customers all around the globe.

From our workshop in Oudewater, we are able to serve our clientele, existing of ship owners, shipyards and ship management offices, who values our hand-on mentality, flexibility and good craftsmanship.
Because we handle short lines between customer, engineer and backoffice, we can anticipate rapidly on any situation.
News & Projects
BBQ for sponsor team

In honour of our sponsored soccer G-team, from SV DONK we had a wonderful bbq on Saturday July 22nd 2023.

Obviously with a starter course from Mr. Peter Vis himself, explaining our scope of business, followed by a noisy 😉 but very pleasant karaoke night. Definately a day to remember!

Valve cages

Another batch of Deutz MWM 645 valve cages ready for dispatch around the world.

At Marine Technics we have several exchange part programs.

For example the exhaust valve cages for the Deutz 645 / MWM 510 series.

When a batch returns in our workshop, they will be dismantled, cleaned and inspected.

The valves and valve seats are machined with our Hunger precision equipment. If machining of the seats is not possible anymore, we have the seats replaced by a high specialist procedure.

Before the next dispatch, several outgoing checks are made, to assure our customers of the highest quality possible .

#Deutz645 #Offshore #valvecage #marine #marinetechnics #machining #hungerprecision

Breakdown auxiliary engine MWM TD226-6

Recently we were called by a Norwegian shipowner concerning a breakdown of one of the auxiliary engines Type MWM  TD226-6.
After initial inspection, we found that one liner was cracked. In order to save time, it was decided to not remove the engine from its foundation, in order to replace it. However, with a very limited working space of accessing the crankcase, we succeeded to bring the engine back in reliable operation with a minimal delay for the ship owner.
Recently we were requested to service 4 fuel pumps for 2 DEUTZ S/BV6M 628 main engines from an offshore drill ship. These "senior" fuel pumps from 1981 (first series -EVA1) were taken from board and fully overhauled in our workshop. After installation and alignment on the engine, the engines were succesfully put back into service.
Get in touch

If you have any questions, please don't hesitate to contact us. We'll get back to you soon.
Wilgenweg 5
3421TV Oudewater
The Netherlands
PO Box 50, 3421DB Oudewater, The Netherlands
Bank account:
Rabobank Oudewater
NL72RABO0352338067
RABONL2U
CoC: 30154449
VAT: NL807465148B01
EORI: 807465148
Applications are not appreciated!
We have no vacancies.
E-mail
Phone
Fax
+31 (0)78 6 815 030
Social
Accounting department
Office